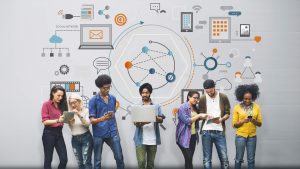 As organizations increasingly adopt digital technologies to improve efficiency and drive innovation, the concept of digital maturity has become increasingly important. Digital maturity refers to an organization's ability to effectively leverage digital technologies to achieve its goals and stay competitive. While the impact of digital maturity on business operations and outcomes is well-known, the impact on people within the organization is often overlooked.
Digital maturity can have a significant impact on employees, affecting their job roles, skills, and work environment. As organizations adopt new technologies and digital processes, employees may need to adapt to new ways of working, learn new skills, and collaborate differently with colleagues. For example, an organization that implements a new CRM system may require sales representatives to learn new software and processes to manage customer interactions effectively.
In addition, digital maturity can create new job roles and opportunities for employees. As organizations digitize more of their operations, they may need to hire employees with specialized digital skills, such as data scientists or UX designers. Digital maturity can also create opportunities for employees to work remotely or in more flexible work arrangements, using digital tools to collaborate and communicate with colleagues.
However, digital maturity can also create challenges for employees, particularly those who are not comfortable with new technologies or who lack the necessary skills to adapt to digital processes. In some cases, digital transformation can lead to job losses or the need for employees to transition to new roles. Organizations must be mindful of these challenges and provide employees with the necessary training and support to ensure that they can adapt to digital processes and technologies.
Another important aspect of digital maturity is its impact on employee engagement and job satisfaction. Studies have shown that employees who work in organizations with high levels of digital maturity are more likely to feel engaged and satisfied with their jobs. This is because digital technologies can reduce administrative tasks and allow employees to focus on more creative and challenging work. In addition, digital tools can facilitate collaboration and communication, improving employee relationships and morale.
In conclusion, digital maturity has a significant impact on people within organizations, affecting their job roles, skills, and work environment. While digital transformation can create new opportunities for employees, it can also create challenges for those who are not comfortable with new technologies or who lack the necessary skills. Organizations must be mindful of these challenges and provide employees with the necessary training and support to ensure that they can adapt to digital processes and technologies. Ultimately, digital maturity can improve employee engagement and job satisfaction, leading to better business outcomes and a more competitive organization.

DIGITAL FRACTAL TECHNOLOGIES INC digitalfractal.com