Canada Digital Adoption Program (CDAP)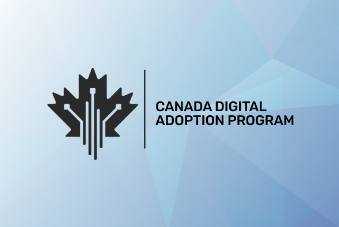 Access
$15K

in

CDAP Funding
Boost Your Business Technology through the CDAP.  Technology is changing at a record pace. If you are a Canadian SME looking to thrive in this complex and dynamic business environment, you need a reputable and federally approved advisor to help you plan and fund your digital adoption. With over 20 years in the tech industry helping SMEs from various industries, Digital Fractal Technologies is the perfect digital advisor for you. We will guide you in:
Purchasing custom or off the shelf software

Updating and/or expanding IT infrastructure

Training staff on current and emerging technologies

Incorporating communication processes to save time and improve productivity
Leveraging digital marketing to reach new markets

Gain insights on the latest sales tactics and KPIs

Track products with the right inventory management software

Improve data collection and analysis
About the
Canada Digital Adoption Program
The Canada Digital Adoption Program (CDAP), by the Government of Canada, helps small and medium-sized enterprises (SMEs) adopt digital technologies to increase their competitiveness. It has the following features:
"Boost Your Business Technology" Grant to consult with recognized and approved advisors to prepare digital adoption plans. The grant will cover 90% of the costs of preparing the digital plan, up to a maximum of $15,000
To support the implementation of the plan, the SME may also apply for an interest-free loan from the Business Development Bank of Canada (BDC) up to $100,000. The SME may also be granted a wage subsidy of up to $7,300 for hiring young people.
As a recognized and approved digital advisor, our team at Digital Fractal Technologies has been offering specialized app development, digital transformation, and business automation consulting  services for over 20 years. We have championed multiple transitions from outdated legacy application software to intuitive software applications for our portfolio of renowned global clients. Our head office is located in Edmonton, Alberta, Canada and we are proud to serve a range of Canadian businesses.
In transforming your business digitally, we will start by conducting a Digital Needs Assessment of your company, followed by data gathering and a comprehensive technology options analysis and digital strategy.
To qualify for this program, you must meet the following eligibility criteria:
Be incorporated federally or provincially, or be a Canadian resident sole proprietor

Be a for-profit, privately owned business
Have between 1 – 499 full time equivalent employees

Have at least $500,000 of annual revenues in one of the previous three tax years
You will be asked to fill out a pre-qualification questionnaire. Once submitted, you should expect to receive a response within a week so you can choose an approved vendor. Approved vendors must have certain qualifications and pass security clearance.
How will we
work

with you?
Access our advisory services through the Government of Canada's Boost Your Business Technology Grant. Together, we will formulate a Digital Adoption plan that can be subsidized through this program.
Let's start your digital transformation today by booking a free consultation with our tech advisors. Simply complete the form below: