Job Board For Desktop / Mobile / Hybrid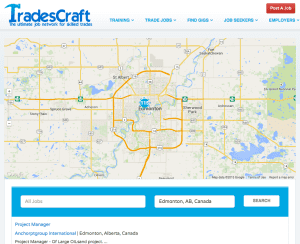 Job Board For
Desktop / Mobile / Hybrid
One of the projects that we have launched in the past 2 years is a job board, (TradesCraft.com). A desktop interface, Mobile Web and Mobile app interfaces for job seekers, employers and admins. If you are looking to release a custom job board or application tracking system, take a look at some of the features below or give us a call if you want to setup a demo.
Job seekers can easily signup to the system within 30 seconds using social media or regular forms
Users can search for jobs based on a mapping system and keywords
Specify Skill-sets from a master list of trades
Receive push notification when a job becomes available in the system matching your criteria
Specify in the mobile app if you are currently looking for work or you are working with the switch of toggle
Upload resume (our resume reader will extract information and create searchable employment history in users profile)
Specify geographical locations that job seekers wants to work in for job matching and notifications
Specify job email notifications preferences (no emails, weekly, monthly, daily)
Search jobs by location, trade or keywords
Access training resources and course lists
Share jobs with social media accounts
Add users in the system as contacts
VouchFor other co-workers in the system
Specify work preferences such as shift work, in country relocation, out of country relocation
add certifications and degree information
Post jobs (job code, details, skills required, location, vacancies, …)
Search resumes in the system matching your job requirements and download resumes
Accept applications from the system (jobs that job seekers find on the website, their job match dashboard, or email notifications)
Add training resources and receive view/click statistics
Receive weekly email reports on candidate availability, applications and view
Employers can specify a redirect URL so that job applications be redirected to a different system upon submission
Mobile app portal for employers so they can manage jobs, post jobs and review applicants on a mobile phone.
Oversee profiles for employers and job seekers
Import jobs from scripts
Manage payment information
Manage master list of trades, cities, locations, etc.
Run reports
Track KPIs (signups, marketing costs)
And many more
App, Software & Web Applications
In our experience, we have seen everything from ASP.Net to Xamarin Currently we prefer working with Ruby on Rails, PHP, Python or .NET, depending on the nature of the project.